Ahmed Abdelsalam, M.D., F.A.C.S.
Trauma to the Eye, Retina Services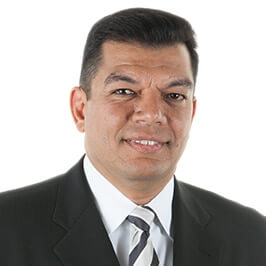 Dr. Abdelsalam specializes in medical and surgical diseases of the vitreous and retina. His expertise includes treating macular degeneration, advanced diabetic retinopathy, macular holes, epiretinal membranes, traumatic retinal detachments, complex retinal detachments, giant retinal tears, proliferative vitreoretinopathy and pediatric vitreoretinal surgery.
Dr. Abdelsalam completed his Medical School in Alexandria University, Egypt where he graduated with high honors. He completed his Internal Medicine training at the Robert Wood Johnson Medical School in New Jersey and his residency in Ophthalmology at the New Jersey Institute of Ophthalmology & Visual Sciences under the direction of Dr. Marco Zarbin. He completed his Vitreoretinal Surgery training at the world reknown Kresge Eye Institute in Michigan under the direction of Drs. Gary Abrams and Dean Elliot.
Dr. Abdelsalam is board certified by the American Board of Ophthalmology (through 2021). He is a fellow of the American College of Surgeons (FACS), The American Academy of Ophthalmology (FAAO) and the American Society of Retina Specialists (ASRS). He is also a member of the Association for Research in Vision and Ophthalmology (ARVO), the Chicago Ophthalmological Society (COS) and the Illinois Association of Ophthalmology (IAO).
Dr. Abdelsalam is strongly committed to continuous medical education (CME). He is the founder of the well-attended and respected Chicagoland Midwest Retina Meeting (CMRU) and the Founder and Managing Director of the Chicagoland Eye and Retina Foundation (CERF). He is also a founder of the Arab African Society of Retina Specialists (AASRS), and an organizer of the International Cairo Retina Meeting (CRM). He is a frequent presenter in many Ophthalmology and Vitreoretinal Surgery meetings in the USA and abroad.
Before founding Chicagoland Retinal Consultants, LLC in 2004, Dr. Abdelsalam was a full-time faculty member in the Pritzker School of Medicine of the University of Chicago, where he was the Director of the Adult and Pediatric Vitreoretinal Surgery Services.
Dr. Abdelsalam is the Managing Partner of DEC LLC dba Hauser Ross Eye Institute.