Matthew Johnson, M.D.
Cataract, Glaucoma Care, Cornea Care, General Eye Care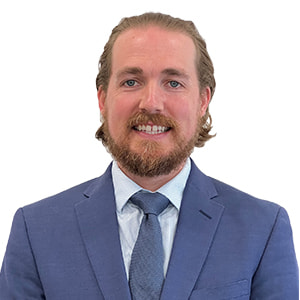 Dr. Matthew Johnson is a board-certified ophthalmologist. He attended the University of Illinois Urbana-Champaign and graduated magna cum laude with a Bachelor of Arts in Finance. He received his Doctor of Medicine from Southern Illinois University School of Medicine. While attending Southern Illinois University School of Medicine, he was inducted as a member of the Alpha Omega Alpha Medical Honor Society.
Dr. Johnson completed a one-year preliminary internal medicine internship at Wake Forest University Baptist Medical Center in Winston-Salem, North Carolina. Afterward he stayed in Winston-Salem to complete his ophthalmology residency at Wake Forest University Baptist Medical Center. After completing his residency, Dr. Johnson moved back to his home state of Illinois and practiced in Central Illinois prior to joining the Hauser-Ross Eye Institute. He has been practicing at Hauser-Ross Eye Institute since 2015.
Dr. Johnson practices comprehensive ophthalmology focusing on cataracts, glaucoma, and cornea care. He specializes in refractive cataract surgery utilizing the LenSx® femtosecond laser and traditional cataract surgery. He has expertise not only with standard mono-focal lenses but also with advanced technology intraocular lenses designed to increase one's independence from glasses. He is current on the latest anterior segment surgical techniques and technologies. He also specializes in micro-invasive glaucoma surgery, LASIK, and PRK using the latest topography-guided Wavelight® technology.
Dr. Johnson has a very simple patient philosophy, and he applies it to every patient encounter every day of the week. He says, "You must first listen to your patient. The simple act of listening to your patients will lead you in the right direction more often than not. Many eye conditions require a very specific treatment plan. However, each patient is an individual with specific concerns, wants, and needs. There is no one right way to take care of all patients. As result, I take a very individual approach with all of my patients. At every encounter, we discuss the problem at hand, how we will treat it, and ultimately how we will get you to see better. If there are any concerns with the treatment plan, I make sure to address them before you leave the office. I can assure you the treatment you will receive will be the exact same treatment I would provide to my mother, father, grandmother or grandfather. This is the expectation I set for myself for every patient encounter. It truly is a privilege to be an ophthalmologist, and I don't take that privilege for granted."
Dr. Johnson is a member of the American Academy of Ophthalmology and the American Society of Cataract and Refractive Surgery. In his free time, Dr. Johnson loves spending time with his family. He and his wife embrace all the joys and chaos that come with raising six children. Between their three sons and three daughters, there is never a dull moment.