Hauser-Ross is Now Offering a Groundbreaking Intraocular Lens (IOL)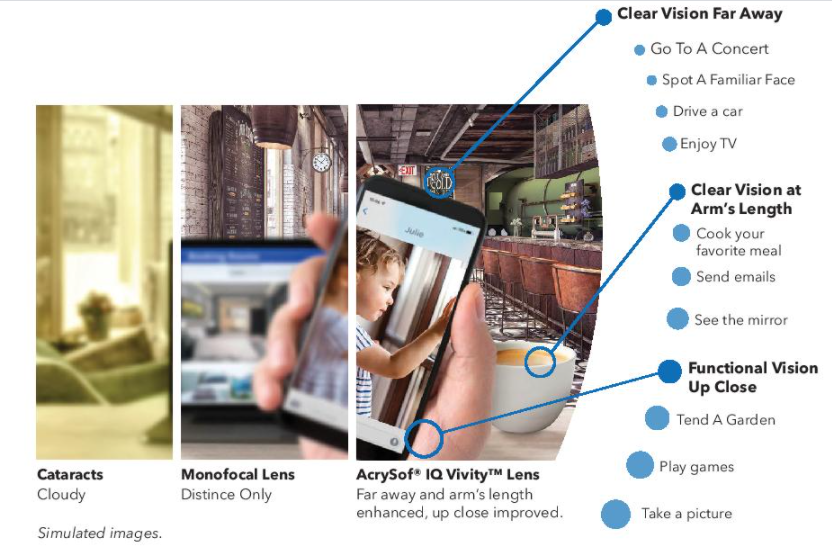 Learn More About the Vivity™ Extended Vision IOL from Chief Surgeon, Dr. Matthew Johnson
Hauser-Ross Eye Institute is proud to announce that chief surgeon, Matthew Johnson, M.D., has been chosen by Alcon Laboratories Inc. as one of the first surgeons in the Chicagoland area to implant and have access to the newly FDA approved Acrysof IQ® Vivity™ Extended Vision Intraocular Lens (IOL).
Intraocular lens (IOL) implants are commonly used to replace a person's natural lens that has become cloudy due to a cataract. The idea of using intraocular lens implants while removing a human lens due to cataracts was first introduced in 1949 by Sir Harold Ridley in London, England. Since that first implant, IOL technology has advanced greatly. An entire new era of multifocal IOLs was introduced in the early 2000s called Advanced Technology IOLs (ATIOLs). These lenses were designed to not only treat the loss of visual quality secondary cataracts but also provide a greater range of vision after surgery with the goal being increased independence from glasses at both distance and near. The development of ATIOLs created a great opportunity for patients to improve their vision and reduce their glasses need after cataract surgery. Over the past 20 years, there has been considerable progress and development in ATIOL technology to the point where there are several ATIOLs available that can meet different patients' needs based upon their visual goals after cataract surgery.
The Vivity™ Extended Vision IOL is the latest advancement in extended vision advanced technology implants. The proprietary design offers a qualified patient a range of vision after surgery from distance, intermediate, to functional up-close sight while reducing visual disturbances sometimes seen in more traditional multifocal ATIOLs. The visual side effect profile including glare and halo is very similar to that of a monofocal IOL. The Vivity™ IOL also comes in a toric version to help correct patients with mild to moderate astigmatism.
Dr. Johnson, who specializes in advanced cataract surgery including laser cataract surgery and advanced technology IOLs, implanted his first Vivity™ IOL in October 2020. Dr. Johnson has used many different advanced lens options over the years, and he says, "Multifocal and Trifocal ATIOLs are a great option for those patients who qualify. Typically the patients are typically very happy, but anywhere from 1-10% of patients have some degree of glare and halo symptoms that may interfere with their quality of life. Sometimes it is tough to predict what patients will be bothered and what ones won't. If we can offer a lens that provides a range while not sacrificing quality, I imagine we'd have more patients who qualify and even better outcomes. When Alcon introduced the Vivity™ Extended Vision IOL, I felt like this was the answer to being able to give patients the opportunity to have a range of vision while not sacrificing visual quality. Patients are left with excellent vision at distance and intermediate with essentially no compromise in visual quality. For near activities, patients can see large print without glasses but may need a low power pair of reading glasses for smaller print activities. I can see myself getting 100% behind this new lens technology, and the early post-operative results of my first patients have been fantastic."